PRODCUTS OVERVIEW
Details
Translucent, abrasion resistant backing helps protect surfaces from wear

Low coefficient of friction for "slip plane" effect between surfaces

Solvent and oil resistant adhesive provides high adhesion and chemical resistance in the most demanding applications

Can help reduce squeaks, rattles and other noises that occur with movement

Used in applications where lubrication is not possible because of contamination

Liner makes it ideal for fabricating or die-cutting into various lengths and shapes
Used to protect surfaces from abrasion, 3M 5425 UHMW PE Film Tape is a thin caliper general purpose polyethylene tape that creates a "slip plane" effect to allow contact without wear. This tape features outstanding chemical resistance and a unique combination of properties that make it ideal for many tough impact wear or sliding applications.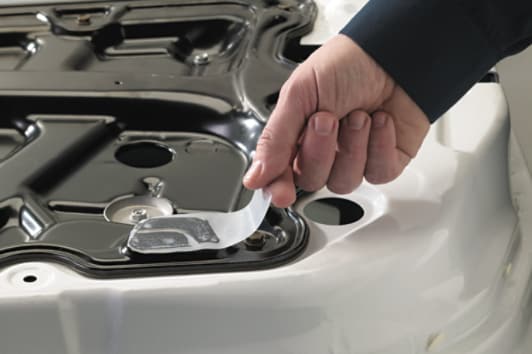 For automotive noise reduction, 3M 5425 UHMW PE Tape provides a "slip plane" effect between incompatible surfaces to help reduce squeaks and rattles
An Effective Solution for Many Noise and Vibration Problems
3M 5425 UHMW PE Film Tape is often used in general industrial applications to help control squeaks and rattles due to vibration or wear of metal and plastic materials. This UHMW-PE (ultra-high molecular weight polyethylene) film tape provides excellent chemical resistance and abrasion resistance that helps ensure a long wear life. 3M 5425 UHMW PE Film Tape is mounted on a liner, making it easy to die-cut to meet the demands of specific applications. It is ideal for applications requiring increased chemical resistance and a low coefficient of friction and the movement of parts and/or materials. This slick surface tape is primarily used in aerospace, automotive, printing and MRO industries.
Recommended Applications
Conveyor guide rails and chutes

Spray booth liners

Tank and bin liners

Drawer and cabinet slides

Protecting aluminum sheets on stretch forming presses